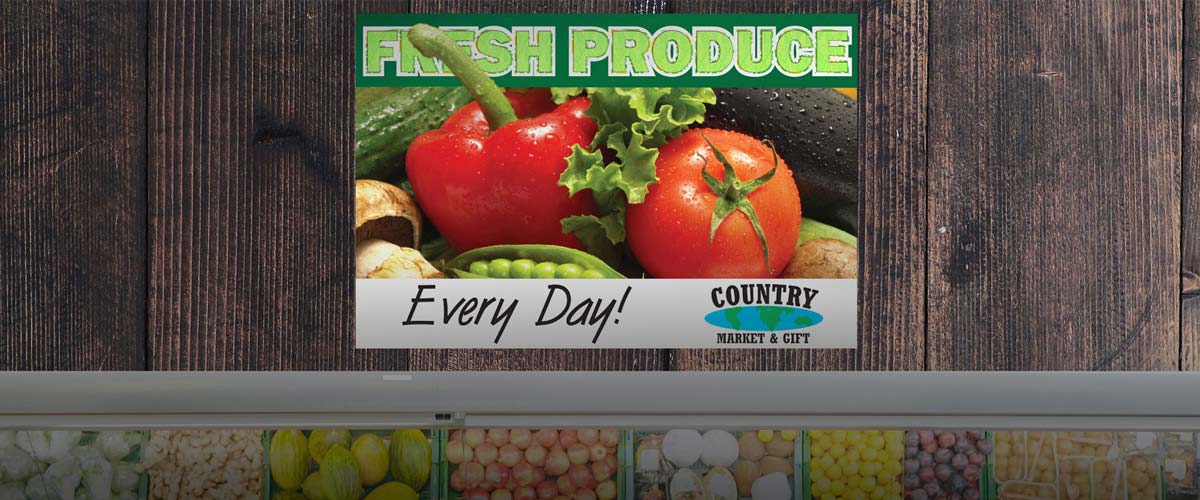 Cheap Custom Posters
Order small, large and custom poster sizes below.
Poster printing is a dynamic and impactful medium to grab attention, draw customers and grow your business. From promoting products and events to raising awareness and inspiring action, custom posters captivate audiences with their visual impact and versatility.
Businesses, educational institutions, non-profit organizations, and event organizers all utilize custom posters to convey their messages and create memorable experiences. Harness the power of high-quality, cheap poster printing to elevate your brand, captivate viewers, and make a lasting impression. Choose from a selection of sizes, stocks and finishes to create the perfect poster for your business today.
SMALL POSTERS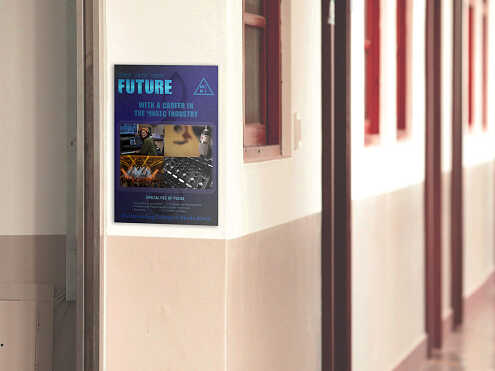 Up to 13"x19"
Print small posters cheap in bulk. Custom mini posters print fast and affordably on high-speed digital printers.
Small posters are available on a wide range of smooth and glossy paper stocks, as well as specialty papers like Linen, Metallic and High-Gloss C1S.
LARGE FORMAT POSTERS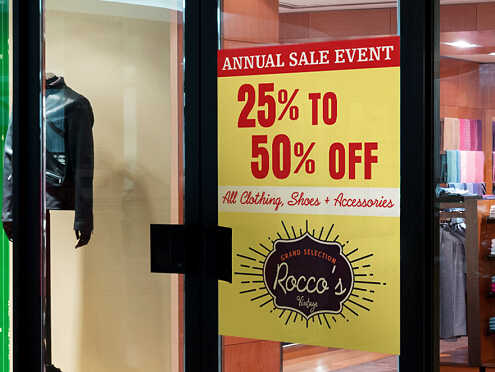 18"x24" and Up
Large format posters start at 18x24". These photo-quality posters print on our HP DesignJet Z9+. This marvelous machine produces eye-popping color and crisp, life-like photo posters with a detailed 9-color ink process.
Print custom poster sizes up to 3ft wide and 8ft long.
Bulk poster printing
Details...

Cheap poster printing in bulk. The more you print, the less they cost.

Order 500 or more custom 11x17 posters for the cheapest poster printing prices online.
Custom poster sizes
Details...

For small posters, choose the next standard size up from the dropdown, then click the button Need a Custom Size? below.

For large posters, enter your custom poster dimensions in the Job Notes.
High-res photo posters
Details...

Get full photo-quality resolution and color depth on semi-gloss or high-gloss photo paper.

Perfect for product posters, tradeshow booths, promotional graphics and more.
Poster Sizes: What's the difference?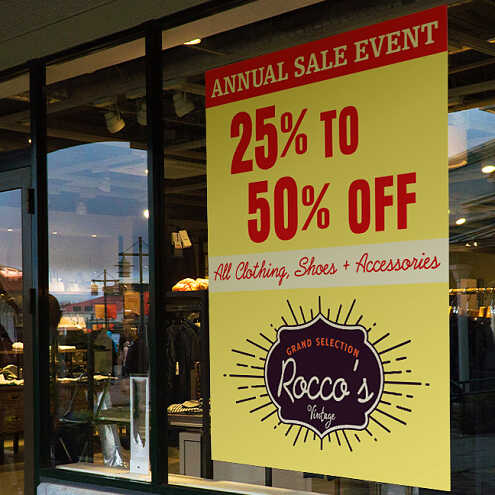 Large format printing up to 36" wide
Small posters are cheap and effective for print advertising.
For marketing and promotion, most customers want cheap poster printing in bulk. This makes 11x17 and 12x18 posters ideal, since they're printed on standard high-speed digital printers that produce excellent quality at great prices.
Large poster printing: Photo-quality wide format.
Print large format posters for sizes over 13x19. Large format posters are perfect for store windows, tradeshow booth displays, or selling your own artwork and wide-format photo prints.
Poster Sizes and Price Examples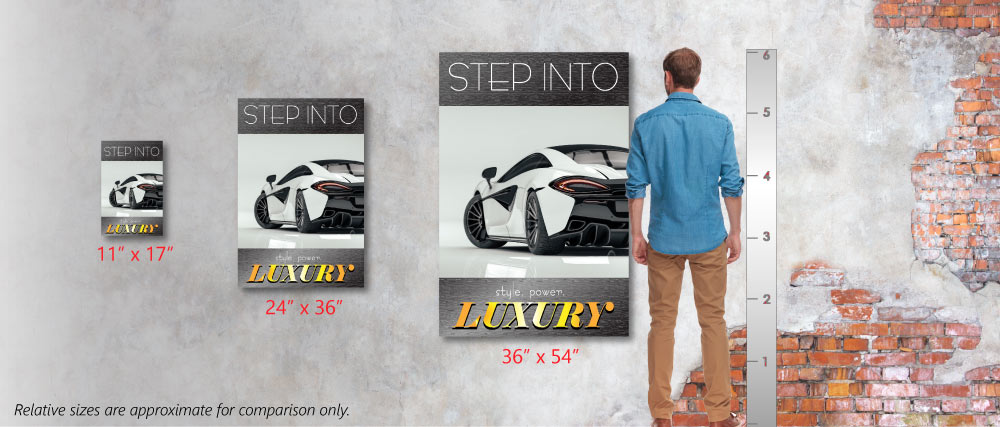 Below are some common poster sizes with quantity/pricing examples for quick reference. Please see product quote/order forms for other paper stocks, quantities and sizes. Tax/shipping not included. (Shipping is free on carts over $125)
Large Poster Price Examples
Single sided on HP Photo High-Gloss
| Large Poster Sizes / Quantity | 1 | 10 | 50 |
| --- | --- | --- | --- |
| 18x24 Size Posters | | | |
| 24x36 Size Posters | | | |
| 36x48 Size Posters | | | |
| 36x60 Size Posters | | | |
Small Poster Price Examples
Single sided, non-bleed on 80# Cover Smooth
| Small Poster Sizes / Quantity | 100 | 250 | 500 |
| --- | --- | --- | --- |
| 11x17 Size Posters | | | |
| 12x18 Size Posters | | | |
| 13x19 Size Posters | | | |
Benefits of Custom Poster Printing
Poster printing is a dynamic and impactful medium that plays a vital role in capturing attention and conveying messages to a large audience. Posters have the ability to grab viewers' attention and leave a lasting impression. Let's explore the world of poster printing, how it's used in various industries, and why it's so effective.
Who Prints Posters?
Businesses and Retailers: Poster printing is a powerful tool for promoting products, services, and special offers, whether you're a small local business or a large national chain. Display your custom posters in storefronts, trade shows, and public spaces to attract potential customers and build brand awareness. Restaurants, theaters, fashion boutiques, and other businesses benefit from cheap poster printing that looks amazing and communicates their unique offerings.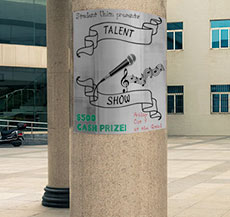 Educational Institutions: Schools, colleges, and universities print posters to showcase achievements, advertise events, and promote campus activities. Educational posters are frequently hung in hallways, libraries, and classrooms to serve as informative displays, motivational tools, and visual aids for various school subjects.
Non-Profit Organizations: Non-profits and charities use posters to raise awareness about important causes, community events, and fundraising campaigns. Use these attention-grabbing tools to inspire action and mobilize support for your next fundraising drive or gala event.
Event Organizers: Custom posters are a great way to promote concerts, festivals, conferences and sporting events. Printed posters help promoters generate excitement, share details, and create a visual representation of the overall theme or spirit of the event. Posters can also be sold as memorabilia at merchandise booths or souvenir stands.
Why Order Custom Poster Printing?
Visual Impact: Posters have a unique ability to capture attention with their large format and vibrant designs. They can quickly convey messages through striking visuals and minimal text, making an instant impact on viewers. A well-designed poster can create an emotional connection and leave a memorable impression.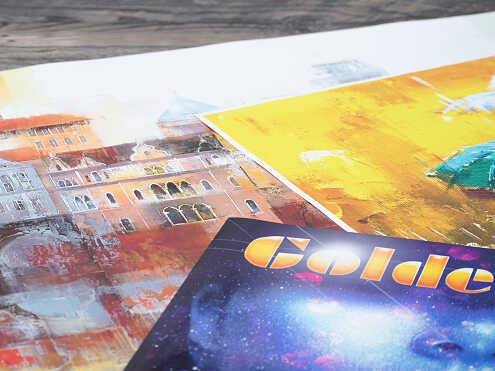 Versatility: Poster printing is a versatile way to showcase creativity. From movie posters to motivational prints, art exhibitions to product promotions, posters can be tailored to suit a wide range of purposes. They can be printed in various poster sizes, paper types, and finishes, allowing for customization to match the intended occasion or environment.
Cost-Effective Marketing: Compared to other advertising mediums, poster printing is cheap. With the ability to reach a large audience using just one piece, custom posters offer a high return on investment.
Tangible and Memorable: Digital ads are quickly and easily forgotten, while custom posters provide a tangible and memorable experience. Whether displayed in wide-open public spaces or indoor sales floors, posters have the potential to reach and persuade countless would-be customers.
Poster Printing FAQ
What size is a poster print?

Poster print sizes vary depending on their use. For cheap poster printing in smaller sizes, order 11x17 posters, 12x18 or 13x19. For larger poster print sizes, 24x36 is very common. For example, if you had rock-band or pop-star posters on your bedroom wall as a teenager, these were probably 24"x36" (or 2ft x 3ft).

Larger sizes, such as 36x48 or longer, are typically used for window advertisements, wall graphics and other public displays, where the extra size improves visibility from a distance or through busy crowds.
What size poster is a 24x36 print?

Check out the image above to see this size example in context. Most "full size" posters that you purchase at retail businesses (like record stores) are 24x36", or 2ft x 3ft. This is a great size that lends itself well to a wide range of uses. At a 2:3 aspect ratio, these poster-size prints fit perfectly on surfaces from your business's front door to your kid's dorm-room wall. Big enough to be seen at a distance, small enough to fit most spaces.
Is custom poster printing affordable?

We offer cheap poster printing options at any quantity and size. You don't have to sacrifice quality for affordability or vice versa. Your price will depend on several variables, namely the Size, Quantity and Paper Type. Select a category above, then enter your custom poster details to see prices.
Do you print mounted posters?

We do not offer poster mounting due to the difficulty of shipping these products across the country safely without bending or denting. But we do offer self-adhesive posters, which makes the process of mounting posters yourself much simpler and cleaner than other options, such as glue sticks or spray-on adhesives. All large format posters come shipped in tubes. Depending on the size and quantity, these tubes may be inserted inside a shipping a box or taped together with packing tape to reduce shipping costs.
How do you hang posters?

There are many ways to hang your custom printed posters. The method you use will depend on what their purpose is, where you're hanging them and on what kind of surface. For example, 11x17 posters for concerts and other live events are commonly hung in windows for coffee shops, boutiques and record stores. These can be hung easily with double-sided clear tape, or with regular tape by wrapping individual strips into ring-shaped loops with the sticky side facing out.

Self adhesive posters are a great option for mounting large posters semi-permanently in shop windows, convention booths and other display spaces.

Many companies manufacture specific products for hanging posters safely on other surfaces, such as drywall or wood. Choose one that's both long-lasting and residue-free to avoid marking up your walls.
Can I get a proof of my poster?

If you'd like a digital proof for free, please request this in the Job Notes. Hard copy (printed) proofs of posters can be chosen on the order form. For smaller sizes (up to 13x19"), the cost is $25 plus $0.10 per page/original. This includes 2-day shipping or faster. Due to the higher cost of goods, proof prices for large-format posters will vary depending on the size, and in some cases it will cost less to simply order 1 poster.