Brochure Printing & Folding
Brochure Printing
Order custom brochures and pamphlet printing for your business today.
Printed brochures are one of the most popular forms of print marketing. Businesses print custom brochures to showcase their products and services. Nonprofits use information pamphlets to increase awareness and request donations. Regardless of your industry, chances are that brochure printing takes up at least part of your marketing budget. Now it can take up less, with cheap brochure printing and multiple folding options to suit any need.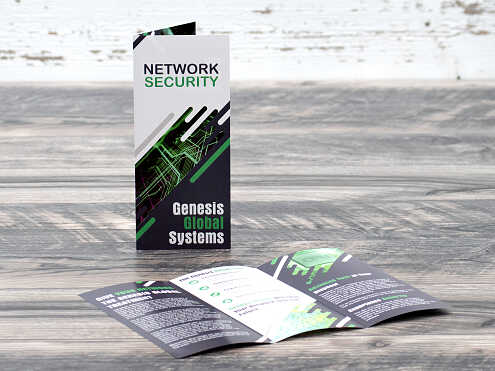 TRI FOLD BROCHURES
Tri-fold brochures and letters print double sided to create 3 panels per side. Fits perfectly in a #10 envelope.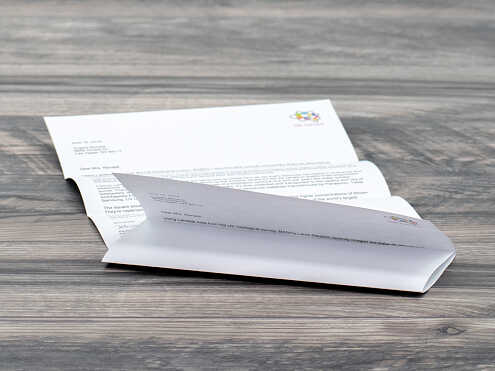 LETTER FOLD IN
Common for letters, bills and statements, select this fold if you want your single-sided printing facing in.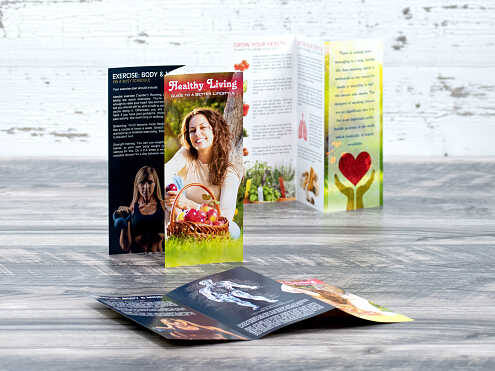 Z-FOLD BROCHURES
A Z-fold is an accordian or zigzag fold similar to a tri-fold, but without the panels overlapping.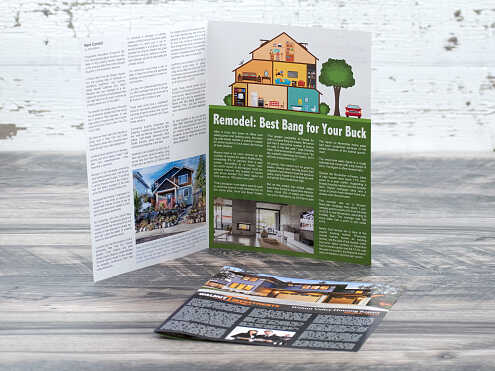 HALF-FOLD / BI-FOLD
Bi-fold / half-fold brochures, also called 4-page brochures, open like a booklet and leave lots of room for content. One sheet creates 4 equal panels of printing.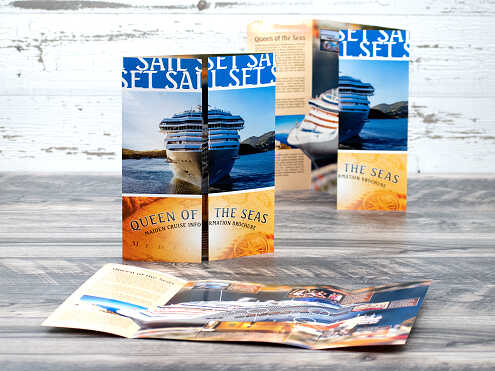 GATE FOLD
2 side panels are folded to meet in the middle of the third panel, creating a gate-like appearance which opens up to reveal the inside content.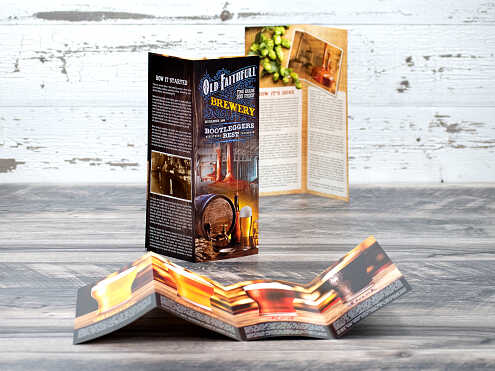 DOUBLE PARALLEL
Sheets are printed on 11x17 and folded in half, then folded in half again the same direction. This creates 8 panels of content (4 on each side).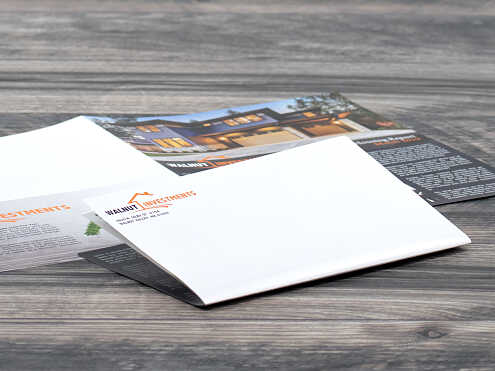 RIGHT ANGLE HALF
11x17 sheets are folded in half, then in half again on the opposite axis, creating four 8.5" x 5.5" panels when unfolded.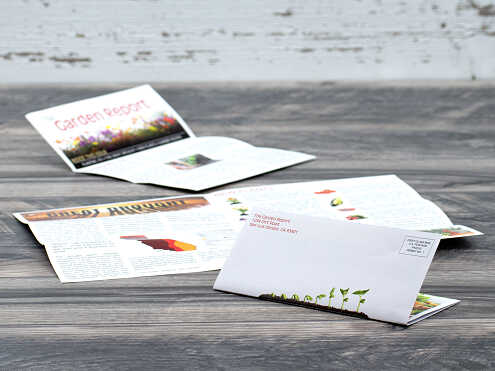 RIGHT ANGLE LETTER
11x17 sheets are folded in half, then folded again in the opposite direction into a letter fold, creating 6 total panels.
Why Brochure Printing Should Be Part of Your Marketing Strategy
Brochure printing is a crucial part of any print marketing campaign. Brochures tell potential customers who you are, what you offer, and why they should give you their business. Smart, effective brochure marketing should be printed with high-quality paper, vibrant colors, and crisp graphics to produce a visually appealing document that accurately represents your brand. Don't forget to include a compelling call to action! Once printed, the next step in this process is folding.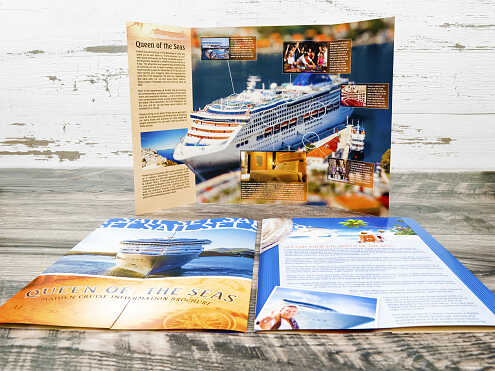 Gate-fold Brochure
With the many brochure folds available, designers can showcase different content or artwork on each panel, further enhancing the visual appeal of their materials. For businesses looking to make an impact with their print marketing efforts, designing a high-quality printed brochure can help ensure your material stands out from competitors' offerings while conveying your message effectively to potential customers. Start designing and printing brochures today!
What folds are most popular for brochure printing?
Tri-fold brochures

These are among the most popular brochure folds in the business world, as they provide ample space for most content while still allowing easy display, distribution and storage. This type of fold provides a clean appearance by dividing sheets into 3 panels. The right-side/bottom panel folds in under the left/top panel, creating a polished and professional appearance for businesses of all kinds.

Half-fold Brochures

Also called bi-fold brochures, these open up like a booklet and leave plenty of room for marketing content. Savvy designers use colorful graphics, vibrant photos and a clear call to action. Half-fold brochures are great for Realtors, local banks, restaurants, caterers and more.

Gate Fold Brochures

These are a fun and unique brochure type that uses the two front panels to simulate a gate or set of doors being opened. This compelling format creates a sense of anticipation, urging readers to open up and see what's inside. This is great for real estate brochures, product launches, tradeshow displays and much more.

Right Angle Folding (Half / Letter)

Right-angle brochures are perfect for mailers, box stuffers, product instructions, or any time you want to fit a lot of information in a small folded brochure. Right-angle Half-fold / Letter-fold Brochures typically begin as 11x17 and end up in a half-sheet or third-sheet size, respectively.

Double Parallel

These brochures give you 8 panels of content to fill up as you please. Marketing brochures often have a graphic or photo that spans the entire sheet, while the folds divide individual sections of text information and photos. This can be useful for tying together long-form marketing content and information about your organization. They're also great for menus and drink lists, sign-up forms, product inserts, and much more.

Z-Fold / Accordion

These are very similar to tri-fold brochures — in fact, it's hard to tell the difference at all without unfolding the panels. Like tri-folds, the Z-fold also creates 6 panels of equal width. But instead of folding in on itself, the panels are folded like an accordian or zig-zag instead, with no panels overlapping.