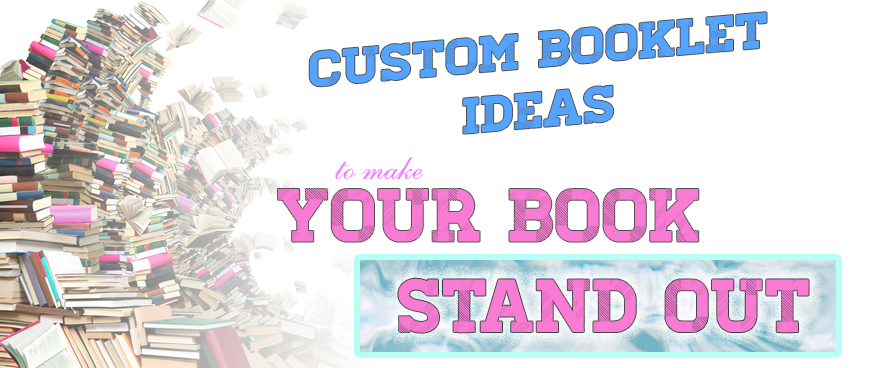 Custom Book Printing:
12 Custom Booklet Ideas to Inspire You
Marketing your custom booklet is much easier if you have an original, compelling product. Print custom books that are unique if you want to get noticed. Thousands of messages compete for our attention every day, so getting read by the right people requires strategic planning.
Create something original!
Print Custom Booklets for:
Training Books

Workbooks

Children's Books

Comic Books

Cookbooks

Coloring Books

Photo Books

Art Books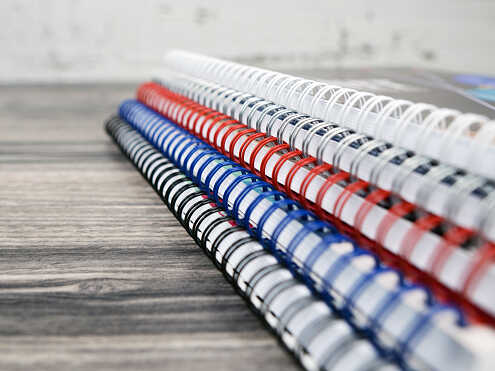 Colored metal wire-o binding
Start by thinking about the physical construction of the book itself. If you're sifting through a rack or a pile of books for something interesting, what's going to pique your interest — a book that looks just like all the others, or a book that stands out?
Let's explore some options for custom book printing and binding that grab the eye and demand attention.
Custom Book Covers
"Don't judge a book by its cover," they say. But unfortunately, many people do just that. So make sure your cover makes a bold statement. Here are some ideas for custom printed book covers:
Metallic Covers

These mica-coated 100# Covers add a metal-like coating to the paper surface. Great for graphic novels, art/photo books and more. Available in 3 colors. Please note, the paper color does affect the tones of your cover art.

High Gloss C1S

This 12-pt cover stock has a high-gloss coating on the front, much like photo paper, while the back (inside cover) is uncoated. This is great for custom books with photos or bright colors/graphics on the cover.

Linen Covers

These 100# covers come embossed with a 3D cross-hatch pattern, reminiscent of linen cloth. Great for art books, sewing guides, craft books, scrapbooks, poetry books and more.

Plastic Covers

Choose from a selection of polyurethane and vinyl covers to add protection, color and style to your custom printed books.
Custom Book Sizes
Standard book sizes are standard for a reason, but that doesn't mean you should hold yourself to the same standard. Printing custom size books is a sure way to get noticed.
Square Books and Booklets

Square books are a great way to differentiate your content from the competitors. Square booklets are popular for coffee table books, art books, photo books, and designer catalogs, among others.

Pocket-Size Booklets

While a half sheet (5.5x8.5) is too large for most pockets, the 4.25x5.5 booklet size is perfect. Pocket-sized books work best with saddle stitch binding but can also accommodate other binding types; just be aware of the thickness/page count if you want them to fit comfortably.

Landscape Books

Printing books landscape is a great option for children's books, art and photography books, scrapbooks and other artistic works.

Skinny Books

We can custom cut printed books to almost any size, which opens up creative avenues for artists and self publishers to express themselves in unusual size formats. Consider printing something long and thin, or tall and skinny, to make your custom book printing really stand out.
Custom Booklet Binding
You can always punch the binding holes yourself, or order books punched without binding. This opens up endless custom book binding opportunities and puts a bit more "you" in your book.
DIY Binding

Rings, ribbons and leather binding ideas

Spiral, comb, 3-hole drilled and wire-o books can be ordered with the holes punched but the binding left off. If you have your own binding machine or specialized binding you need to insert by hand, your covers and sheets will arrive ready to go.

Custom Binders and Covers

DocuCopies.com sells standard black and white 3-ring binders. While these are great for formal and business use, you can also hunt for unique, custom 3-ring binders on the Internet. We've seen specialty binders and book covers made from leather, wood and more. Just order your books with 3-Hole Drilling, No Binders. For other Book types, choose the binding method and request "No binding, punch holes only" in the Job Notes. Contact us for information about hole size, pitch and other details if you're inserting your own binding.
Custom Colored Book Binding
If you're printing books with Spiral or Wire-o binding, try a binding color that compliments (or contrasts) the predominant colors in your cover art.
Spiral Binding Colors

Wire-o (Metal) Binding Colors
Ready to Print Your Custom Booklets?
Hopefully these ideas got your creative gears turning. If you're ready to go to print, check out our Book Printing and Binding services. Start by choosing the binding type you want, then fill in your job details on the order form for an instant price quote.
💡
Don't Know What Book Binding to Choose?
Don't sweat it.
Aside from Stapled Booklets (Saddle Stitch Books), you can easily switch between binding types on the order form to compare custom book options and prices.
Custom Book Printing FAQ
Is custom booklet printing affordable?

Digital printing makes printing custom books easy and affordable at any quantity. Different booklet binding types have their pros and cons. For the most affordable custom booklets, Saddle Stitch Booklets (Stapled Booklets) and Spiral Bound Books are the best option.
Do you print custom planners?

Yes we do. Most custom printed planners are bound with Spiral or Wire-o Binding. These are durable, attractive and allow the most flexibility with page turning and laying your custom planners flat.
What do you recommend for printing family cookbooks?

Family cookbooks are a great way to pass down priceless family secrets. Since they'll be presumbably used in the kitchen, you'll want to protect at least the covers from liquid, grease and other workplace hazards. For this we recommend either laminated covers, waterproof/tearproof covers, or a clear plastic cover with a vinyl backing.

If you want to create a family cookbook that holds up to years of use and abuse, consider laminting the inside pages, too.