BOOK BINDING
AS LOW AS:
Stapled Booklet: FREE
Paginated
Folded
Saddle Stitched
Free Binding on 28+ Page 8.5x11 Booklets.
Spiral: 67¢
Wire-O: 88¢
Perfect: $1.03
Binding cost is per book. $30 Min. + $35 setup
Comb: $1.18
Click on a binding type for more details
Featured Printing Services
Customer Reviews and Counting
"I am glad we found you. We were using Staples where the quality was so so and the reliability of getting orders on time was also so so. Thank you for the excellent quality and we will be using you from now on!"Kurt D. - AZ - Yest. Tue 5/21
"the work you produce is fantastic! thank you!!!!"Laurie G. - MA - Yest. Tue 5/21
"The turn around on this project was very quick and our brochures looked absolutely amazing in print!"Mark T. - NY - Last Mon 5/20
"I am so happy with the quality, turnaround time, and cost for my most recent project! I will definitely use DocuCopies again for future printing projects."Adam W. - WA - Last Mon 5/20
"I didn't actually interact with a person or the final product, but I was quite pleased with the ease of the process. A coworker recommended y'all for getting flyers printed up for a conference, and raves about the quality/price of your work. Thanks for providing a more cost-effective alternative to FedEx Office!"Sam M. - MI - Last Mon 5/20
"This is my 2nd year using DocuCopies to print a yearbook job I donate to a small, inner-city Christian school for at-risk youth in Dallas, which I printed in-house for the previous 10 years. Not only do I avoid all the aggravation of running coated stock through my color laser printer, the quality of the prints from DocuCopies is better, and the price of the job is less than the cost of print stock and toners when I did the job in-house."Jon A. - TX - Last Sun 5/19
"We are very impressed with the customer service we received from DocuCopies. This order was for an escape room activity for our end-of-year 5th Grade party. Everything went very smoothly. We will tell everyone at our schools to use you in the future."Adam G. - GA - Last Sat 5/18
"Your staff was very helpful in making your postcard product possible for us to use"Deborah C. - FL - Last Fri 5/17
"I really appreciated you working to help me meet my deadline despite my forgetfulness to mention it."Lucretia H. - OR - Tue, 5/14
"Amazing Service, Awesome Products - You continually outdo yourselves!!!"Timothy E. - WA - Mon, 5/13
"So extremely happy that one of our employees brought your company to our attention. You are fast and efficient with a great quality product. I would recommend your company to anyone who has printing needs."Christina P. - CA - Sun, 5/12
"It is always a pleasure doing business with you! I appreciate the ease of use, the fast turnaround times and the excellent pricing!"Glen K. - IN - Sun, 5/12
"Finished product was perfect!!!!"Jill J. - GA - Sat, 5/11
"I just think the price and quality are fantastic. We do a fair amount of printing for our company and have fallen back on services like Staples because they're quick and easy but my supervisor and I both felt like besides the amazing price the print out turned out better from your company. We're looking forward to trying some other printing services through your company"Emily W. - NJ - Thu, 5/9
"We have used you quite a bit and have always had a good experience. Someone always answers the phone which is nice!"Joe C. - IL - Mon, 5/6
"This is the 9th consecutive year that the Bonsal Blues Band has used DocuCopies to print the program/ad book for our annual concert. I have been 100% satisfied every time. I know that I can rely on a very quick turnaround and an excellent quality program book."George W. - NJ - Mon, 5/6
"I especially appreciated the help to properly prepare the PDF file before printing. It would have been a disaster without that help. I'll be back, for sure. Great company, great service, fair pricing. Thanks you!"Robert S. - CA - Sun, 5/5
"Thanks again for all your help. We love using you!"Jamelyn L. - CA - Fri, 5/3
"Thanks we will happy with you excellent service"Rajesh T. - IL - Fri, 5/3
"It was great working with them. When the card that my boss gave me didn't go through, they called me right away to let me know about the issue so I was able to sort it out and get our programs made."Jennifer O. - CA - Thu, 5/2

Yelp Reviews | Better Business Bureau | Testimonials on a Map | Past Customers
2 Locations for Fast National Shipping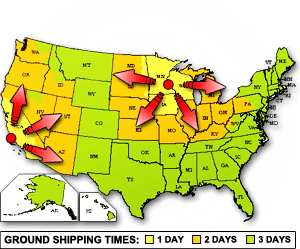 DocuCopies.com consists of two production facilities in California and Wisconsin. The geographical location of these printing facilities allows for extremely fast ground shipping times of 1-3 business days to the entire USA. Paired with an average production time of 3-5 business days, we provide one of the fastest turn around times in the country.
Free Ground Shipping!
Within the contiguous USA on orders over $125
About DocuCopies.com Commercial Printing
We've been in the digital printing and color copying business since the 1980s, so we've learned something over the years about quality color printing and top-notch customer service. Whether you're a commercial business looking to print in the tens of thousands or a parent that needs to print 50 invitations for your child's birthday party we have the ability to meet everyone's needs.
When you call our customer service line during normal business hours, you will always talk to a live human being employed at our actual place of business, not an automated system or an overseas call center. Each order is assigned to a dedicated customer service representative who will be responsible for setting up your files and communicating with you on any questions or issues that arise in the color copying and digital printing process.
We hold ourselves to a higher standard of printing services than most, and we proudly stand by the quality of our printing. We care about and treat our team members well to ensure they care about your printing job and give it the individual attention it needs. Digital printing is what we know, but customer service is our expertise.
How DocuCopies.com Differs From Other Printers
If you have ever been to FedEx Office, OfficeMax, or the UPS Store, you know that the cost of a color copy can vary from place to place, but you are probably wondering why our color copies are so much cheaper than Kinko's and the like. That is a great question and here's a quick breakdown of how our printing services vary from a traditional walk-in printing company.

High Speed Digital Printers
We utilize the newest high speed digital printers available on the market today. These printers use much of the same technology that you will find at Kinko's or OfficeMax but on a larger scale and can produce copies in a fraction of the time. If you've gotten anything copied before at the big box printer stores you will notice that our color copies are very similar in color and quality. Like most printers though, every file prints a little different from place to place.

Online Printing Only
Probably the biggest reason that we are able to offer such cheap color printing, and unlike most of the big box stores, is that we deal exclusively with printing online orders. We do not have any walk in business. This allows us to focus all of our efforts on file preparation, printing your files to the highest degree in the shortest time, and shipping the completed order to you in the quickest possible fashion.

Customer Care
Just because we are an online printer doesn't mean we can't offer the kind of customer service that you are used to getting in person. From the moment you visit our site to the time you receive your order from UPS we are here to make the whole online printing process as easy and care free as possible. For added assurance, you can track the status of your order through your account to see exactly where it is at in the printing process.

Never Leave Your Office
Lastly, one of the great benefits of online printing with DocuCopies is that you never need to leave the comforts of your office. You can place your order online, 24/7, from anywhere in the world and receive the order within a few days from UPS. No longer do you need to make multiple trips to the printer, just to drop off your files and pick up your order. The future of printing is here with www.DocuCopies.com.
Green-Friendly Digital Printing!
What we mean by that is, you can spend less of it (money), while encouraging more of it (trees)! Our standard paper stock is 25% post-consumer recycled material, and we also offer 100% post-consumer recycled paper stocks for only about a penny more per copy. Cheap color copies shouldn't come at the expense of our environment. We get the paper for our color copies from American paper companies, which means they adhere to a specific set of environmental standards. We also recycle as much waste as possible, from empty soda cans and food packaging to waste paper and empty printer toner bottles.
*: Free shipping is on orders over $125 via UPS ground within the Contiguous US. Shipping to Canada, HI, AK, VI, PR, and expedited services available. Production times vary based on workload. Rush service is available. Call us for more information.