Cheap Catalog Printing
Order custom catalogs online for affordable print marketing.
Catalog printing is cheap and high-quality at any quantity. Printing custom catalogs is a great way to showcase and sell your products and services remotely. We can even mail your catalogs straight to your customers and clients to save you time and money. Order cheap catalog printing online today.
Choose the binding for your custom catalogs to get started.
Catalog Printing / Binding Options: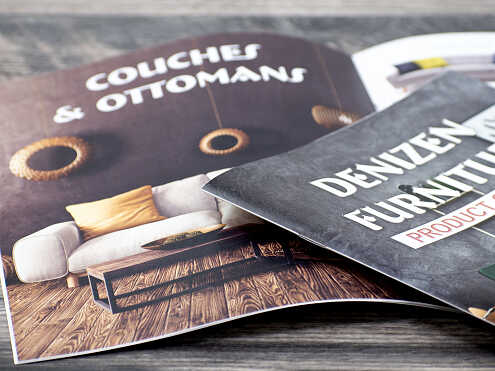 STAPLED / SADDLE STITCH CATALOGS
Stapled catalogs are the most affordable option for cheap catalog printing (up to 20 pages). Stapled booklets can also be mailed without envelopes, which makes these the top choice for catalog mailers.
Perfect binding your catalog creates a paperback, softcover book. These can also be mailed in padded envelopes, and depending on the thickness of your catalog, text can be printed on the spine as well. Use our spine calculator for help.
Spiral bound catalogs are the most durable and affordable option for longer catalogs. The plastic coils comes in a variety of colors: black, white, red, blue, pink and clear.
Wire-o catalog binding uses an attractive metal twin-loop wire to secure catalog pages and covers together. The metal wire comes in a variety of colors: black, white, red, blue, and pewter.
Where does catalog printing fit in?
Since the Old West days of Sears & Roebuck, catalog printing has occupied a special place in the history of American advertising.
These days, when so much of the marketing conversation revolves around ecommerce, social, and pay-per-click, you may wonder if catalog printing still has a seat at the table. But one part of the discussion that's getting more and more buzz these days is brand authenticity, and this is one area where nothing beats a custom printed catalog.
There are successful businesses in every sector that still rely on catalog printing to grow and operate their business effectively. Custom catalog printing can help businesses reach specific target audiences, showcase their products in a clear and tangible format, and complement their overall marketing strategies (which probably still include digital).
If you're still not sure where catalog printing fits into your brand or business model, here are some examples:
Retailers

Catalogs provide a visual and tactile way to present products that a computer screen or phone simply can't replicate. Product catalogs are particularly popular in the fashion, home decor, makeup, and specialty product sectors.

Luxury Brands

Luxury brands often use high-quality printed catalogs as a marketing tool to convey a sense of exclusivity and sophistication.

B2B Companies

Many business-to-business (B2B) companies mail out printed catalogs of their products and services to current and potential clients. In addition to advertising, these catalogs can also function as reference materials for reordering inventory, replacing broken parts, and more.

Art and Photography Galleries

Galleries and artists often create printed catalogs to accompany exhibitions and special events. These catalogs can serve as event programs for specific art shows, as well as pricing sheets and order forms for works on display.

Travel and Tourism Companies

Travel agencies, luxury resorts, and local tourism boards can use custom catalogs to promote unique destinations, activities, and vacation packages. Printed catalogs can be effective in inspiring the traveler's itch with photos of pristine beaches, primordial forests, mountain climbing, and other eye candy.

Educational Institutions

Many schools, colleges, and universities still print course catalogs and brochures to hand out to prospective students. These are especially useful in admissions offices other hotspots so that visitors can review the content at their leisure as they tour campus. These catalogs offer insightful information about available courses, degree programs, and accreditations, all at the reader's fingertips — not buried on the school's website.