Menu Printing
Disposable Menus • Laminated Menus • Single Use Menus
The restaurant industry has changed dramatically, but the need for menu printing has never been stronger. To assist in public safety, restaurants and eateries are focusing more of their marketing dollars on single-use menus. DocuCopies offers these restaurateurs competitive pricing, lightning turnaround and spectacular service for disposable menu printing.
For those eateries who are seating and serving in-house, consider trying the waterproof paper stock we offer for more permanent menu printing. This rugged, non-porous material will hold up to repeated sanitations, wipe downs and spills. For even more protection, try a regular paper stock with lamination. But if your menu changes fairly often, disposable menus will be the safest and most cost effective option. Print menus in bulk, hand them to diners as they're seated, and throwaway menus when they're done.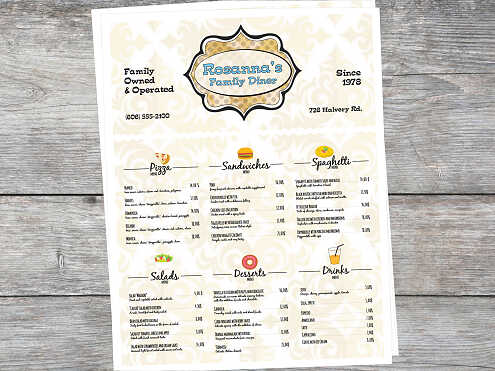 SINGLE-USE DISPOSABLE MENUS
Disposable menus are immensely popular since they can be printed cheap in bulk and recycled after use. Single-use menus are perfect for high-volume, casual restaurants as well as fine dining, since your staff won't need to sanitize each menu between customers. Just take their orders and throwaway menus when done.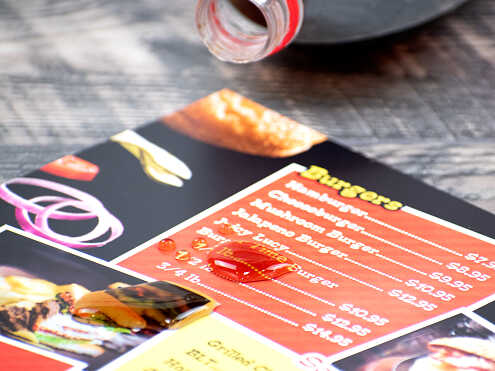 If you're ready to seat, these menus simplify the sanitation stage. Our waterproof/tearproof menus are printed on a synthetic, non-porous material, perfect for sanitizing wipe-downs. Or choose a cardstock paper with lamination for a sturdy, plastic-cased menu which holds up to nearly any abuse.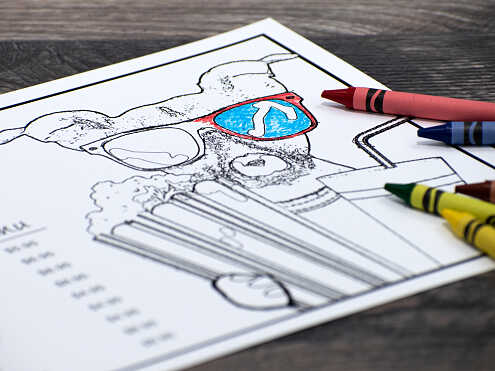 CHILDREN'S MENUS
Keep the kids entertained and fed at the same time with custom kids menus. It's amazing how far a few puzzles and some chicken strips can go. Print kids menus cheap in bulk and you'll never worry about tense inter-table relations again.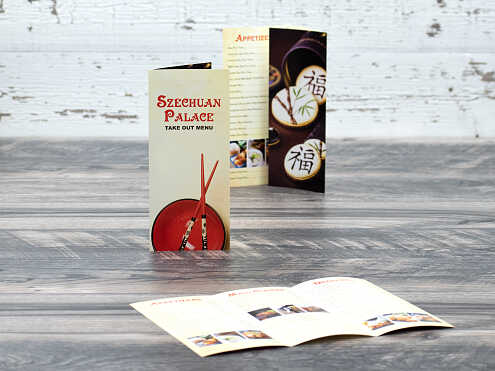 DELIVERY / TAKE-OUT MENUS
Take out and delivery menus are the bread and butter of restaurant advertising, especially in larger cities. Print menus with tantalizing color pictures of your best entrees and sweetest deserts. Give your customers take-out menus to keep them coming back, and give your delivery team a thick stack of delivery menus to drop off on their route.
Other Restaurant Printing Products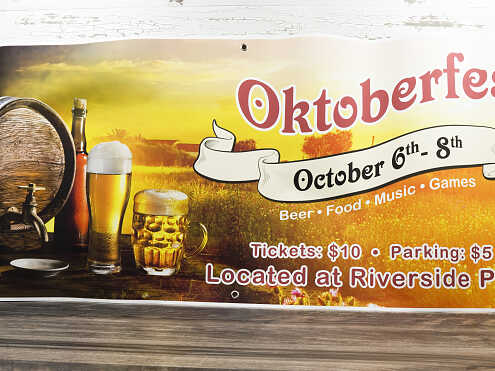 VINYL BANNERS
Whether it's your Grand Opening or your Semi-Grand Re-reopening, nothing catches the eye and calls for celebration like a party banner. Hang them in your entrance, over your buffet table or anywhere you want your restaurant's banner to get noticed. If you host parties, offering banner printing as an add-on service is a great way to delight your guest of honor and bring in a little extra profit at the same time.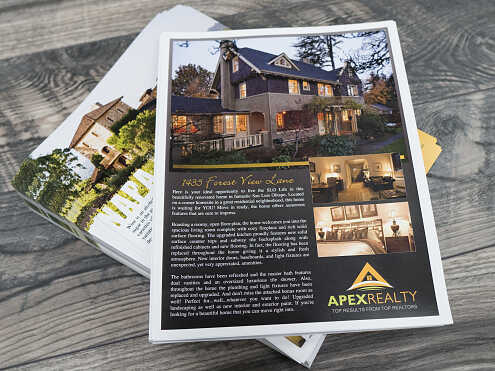 PROMO FLYERS
Promotional flyers are a great way to advertise coupons, new menu items and special events. Stick them to your pizza boxes or inside your delivery bags so your dedicated clients know what's new. Keep a stack next to your entryway for diners to take with them, or drop them off at your business neighbors so they know where to grab lunch.