Cheap Menu Printing
Restaurant + Take Out Menus
Affordable menu printing is a top concern for any restaurant. The food service industry has changed dramatically, but printing menus and related food-industry and safety products is more necessary than ever.
We know every restaurant menu is different, and each businesses has their own unique printing needs and challenges. DocuCopies is ready to help you solve them. Explore our menu printing options and related restaurant printing services below, or navigate all our products for even more options.
Single-use Menu Printing (Disposable)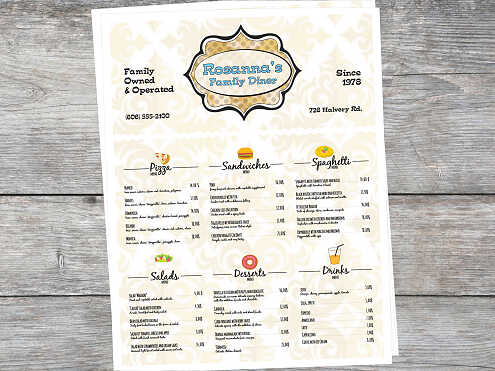 SINGLE-USE DISPOSABLE MENUS
Disposable menu printing is popular for the simplicity: Print menus cheap in bulk, change the content as often as needed, and recycle each after use.
Single-use menus are perfect for high-volume, casual restaurants as well as fine dining. The ideal solution for restaurants whose menu items change often.
Sanitary Menu Printing (Reusable)
WATER/TEAR-PROOF MENUS
Fully synthetic and non-porous
Cleans off easy without affecting the print
Most cost-effective option for reusable menus
LAMINATED MENUS
Same sanitation benefits as the waterproof, but this durable 3-mil laminate adds a glossy effect and makes menus magic-marker friendly.
Kids Menu Printing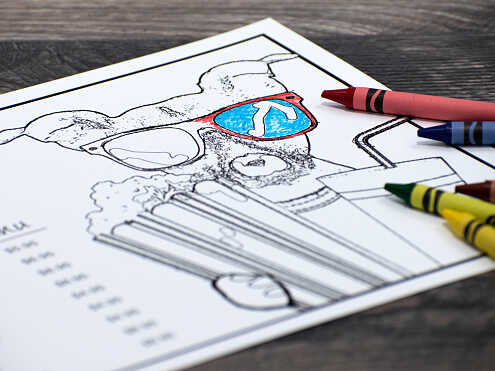 KIDS MENU PRINTING
Keep the kiddos entertained with coloring pictures, mazes, puzzles and more.
Dual Use:
Laminate them and give kids magic markers for reusable, sanitizable menu printing.
- OR -
Print kids menus cheap in bulk and recycle them after use.
Take Out / Delivery Menu Printing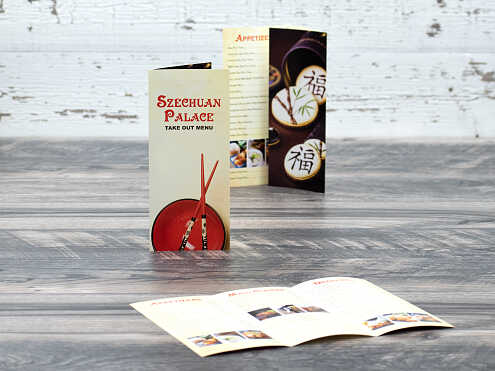 TAKE-OUT MENU PRINTING
Take-out menu printing is the lifeblood of cuisine culture in America's urban centers, especially during the pandemic.
Print menus for to-go bags, boxes, and counter displays. When someone wants to try a new restaurant, seeing is believing, so we recommend at least 28/70# Text Smooth or 32/80# Text Gloss for the most eye-popping image quality.
Door Hanger Menu Printing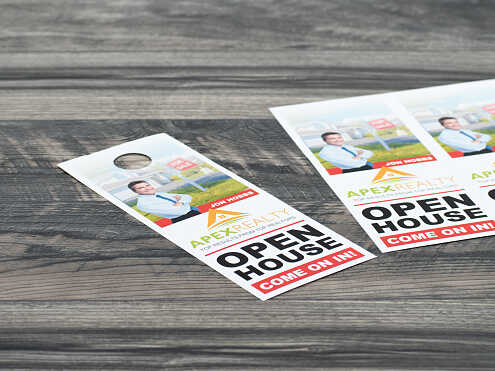 DOOR HANGER MENU PRINTING
Printing menus as door hangers is a perfect option for restaurants who are new to the area, reopening or expanding their service regions.
Lure in new customers with photos of your featured specialty dishes, Happy Hour specials, Holiday dining events and more.
Other Restaurant and Food Printing Services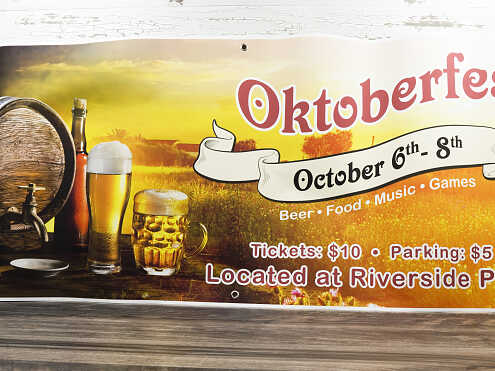 POSTERS, SIGNAGE AND VINYL BANNERS
+ Self-Adhesive Posters and Window Clings
Whether it's your Grand Opening or your Semi-Grand Re-reopening, there's no bigger way to say your message than large format printing. All our large format products are printed with vivid, photo-quality, 9-color detail. Banners available with grommets.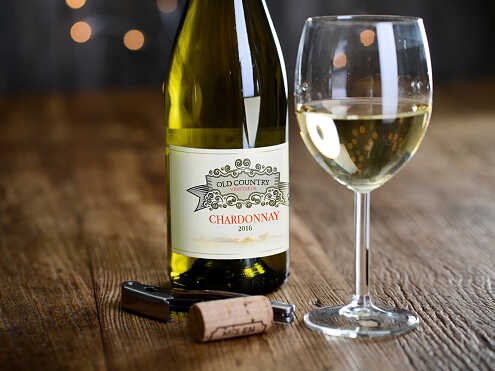 STICKERS AND LABELS
Bakeries and other eateries who sell food to-go can benefit from custom label printing — especially if you're selling your products at stores, farmers markets or public events. If they ate it, they should know who made it.
Menu Printing FAQ
Is printing menus safe during the pandemic?

Safe menu printing is a top concern for restaurants during the pandemic. We have several options to help protect your team and diners:

Single Use Menus:
Disposable menu printing for single use is very popular for high-volume restaurants and those whose menu changes frequently. These can be printed cheap in bulk and recycled or thrown out after each customer.

Laminated Menus:
Durable, magic-marker-friendly lamination adds rigidity and rugged durability. These wipeable menus can be safely sanitized between use with alcohol or bleach-based cleaners. Perfect for placemat menus, too.

Waterproof/Tearproof Menu Printing:
Get the same protection as a laminated menu with less cost. This 100% synthetic stock prints colors and photos beautifully without losing quality after repeated wipe-downs.

Is menu printing affordable?

Printing menus cheap is important, but planning your menu strategy is just as important to budgeting. If your menu changes often, or you have a very high volume at certain times of day, single-use menus are your best option. These menus print cheap in bulk and can be tossed out/recycled after each customer. This eliminates the need to spray and sanitize each menu between uses, which can be cumbersome if you're short staffed or dealing with many customers at once.

If your menu doesn't change often, if you want printed menus that will last for years, or you just want to reduce your carbon footprint, printing menus with lamination or tearproof/waterproof menus will be the better choice. These can be sanitized repeatedly without degrading the print quality. Of these, waterproof is the cheaper menu printing option.
Does menu printing include folding?

We offer several folding options for menu printing which you can select on the order form. However, we cannot fold laminated menus or waterproof menus due to the material.

Most folded menu printing uses the trifold (common for takeout/delivery menus) or half-fold (single-use, dine-in).
How fast can you print menus?

Single-use menus (paper, no folding) and waterproof/tearproof menus print and ship in 2-4 business days.

Laminated menus and those that require folding, or printing to the edge (bleed), ship in 3-5 business days.

Need them sooner? Rush Delivery is available! Go to the order form, enter your job details, then enter your ZIP code under "Delivery Options" to see guaranteed delivery dates and costs.