YEARBOOK PRINTING
Custom Printed School Yearbooks
Class Yearbook Printing Made Easy
This is it! You've found it! The last place you'll need to go to get custom printed yearbooks. Whether your school is big or small, we have numerous book binding options to suit your yearbook printing needs.
Our perfect bound books will give your yearbooks the most professional looking appearance, while a stapled booklet is a good choice for small classes or those looking to save on binding costs.
When trying to determine what paper to print on, gloss will generally produce better looking photos / colors compared to the smooth papers. However, if it's an elementary class and children may be signing yearbooks with colored pencils or crayons then the smooth papers would be the better choice. Gloss papers are easier to sign with pens or markers.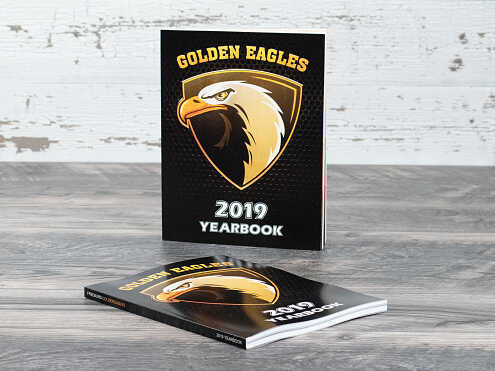 Perfect Bound Yearbooks
Perfect binding is a glue based bindery process where pages are adhered with glue to the spine of a wrap-around cardstock cover. Depending on the number of interior pages, you can print text on the spine for added professionalism.
Quote / Order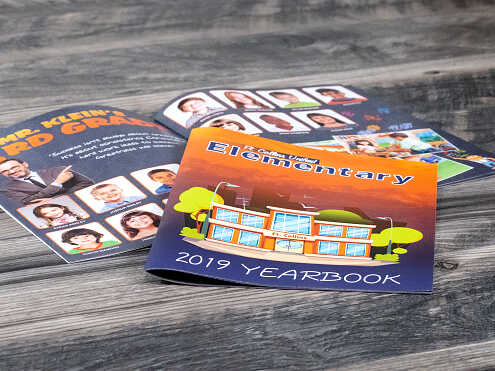 Stapled Booklet Yearbooks
Stapled or saddle-stitch binding is a process where larger sheets are printed, folded in half, and stapled twice in the gutter / fold. This lends itself well to yearbooks with a small number of pages or those looking to save on binding costs.
Quote / Order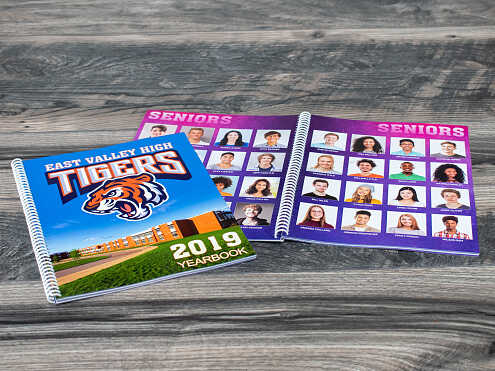 Spiral Bound Yearbooks
Pages in a spiral yearbook are punched and bound together with a single continuous plastic coil. This is the most durable and versatile yearbook binding. The spirals come in a variety of colors to help customize the books to match your school's colors
Quote / Order