Book Printing Services

Cheap booklet binding, outstanding quality and the best prices online.
10% OFF ORDERS OVER $350
Limited time offer. Valid on stapled booklets, binders and bound book printing only.
Straight to Clients in Padded Envelopes:
Choose "Bulk Mailing - Ship in Padded Envelope" on the Price/Order Form.
Upload your Excel or CSV file at checkout.
Split Ship to Several Locations:
Split your cart in specified bundles to multiple locations. Click "Split Shipment" at checkout.
Free Ground Shipping to One Location:
As always, any cart over $125 gets free UPS Ground shipping with regular production time.
Out of all the products we offer, our book printing services are our pride and joy. Thousands of customers depend on us for fast, affordable book printing and binding — from self published authors of children's books, novels and poetry, to professional training companies, corporations and universities.
To get started on your custom book printing, choose your binding method below. If you don't know yet, you can change the binding type later on the order form (except for Stapled Booklets, which are a unique product type).
Professional Booklet Printing and Binding: Videos
We can tout our decades of experience, our low booklet printing prices and superb customer service all day. But when it comes to gaining your confidence in our quality printing, book binding capabilities and attention to detail, seeing is believing. Check out these video demonstrations of some of our most popular book binding services:
Spiral Binding Video
Watch the spiral binding process in action.
Wire-O Binding Video
Watch how wire-o books are assembled.
Perfect Binding Video
You'll be glued to your screen watching how perfect bound books are made.
We've prepared answers to the most common questions people ask about printing books. If you have any additional questions about your book printing project please contact us.
What's the difference between booklet printing and book printing?

In our experience, many people use both words interchangeably. Technically, booklets generally refer to smaller books, usually with paper covers. But because of the common dual usage, you may find us referring to both books and booklets on the website depending on the product and context. The binding method used for your printed books is more useful when talking about what kind of books or booklets you're printing.
---
What kind of binding should I order for my custom book printing?

For books of a technical, business or educational nature, we recommend Spiral or Wire-O binding for your book printing. Spiral binding is the most long-lasting and allows you to flip pages all the way around the back 180° while laying flat, which is a must-have feature for many book uses. We recommend spiral bound book printing for cookbooks, yearbooks, catalogs, work books, training manuals and more.

Wire-O is similar but instead of a plastic coil binding, Wire-O uses a double-loop wire which is inserted and clamped closed inside the back cover. While this does allow for relatively flat reading, flipping pages around the back can over time bend the wire. So you may need to re-tighten the clamping in the back depending on the way your books are used.

If you're printing books read for pleasure, such as novels, poetry anthologies, family histories or books meant to be sold retail, perfect bound books are the best option. This is the only method that has a printable spine. Perfect bound booklets are a softcover-type book similar to what's commonly found in bookstores. The pages are glued firmly into the spine of the cardstock cover, and the finisher trims the edges even to create a "perfect" 90° angle.
---
Can you print custom size books?

Yes we can, and you can now get automated pricing on your custom book sizes. Simply choose the next size up on the automated order forms, then click the Custom Size button just below that. Enter your desired custom book size and the calculator will show your price.
---
What paper should I use for inside pages?

We recommend printing book pages on at least 24/60# Laser Smooth paper. If your pages are mostly text, this thickness may be sufficient. If you're printing double sided and have a lot of photos or color, we recommend the 28/70# Laser Smooth or heavier to avoid most show-through from one side to the other.

If your book is very heavy with color photos, graphics and other visual stimuli, we highly recommend upgrading to the 32/80# Glossy Text or 100# Glossy Text. This heavy text paper has a semigloss finish which works wonders for making color and photos pop off the page.
---
How do you offer such cheap book printing?

Our book printing services are geared with volume in mind. Because of the sheer volume of printing we do in general, we are able to negotiate extremely low click rates (the price we're charged each time a sheet is printed) which we use to leverage our competitive prices across all products. In plain English, we can afford to slash prices because of how much we print. We've also put our decades of experience to use in creating an efficient, largely automated workflow that saves time and labor in each step of production.
5 Reasons Why Book Printing Still Matters in 2020
Show / Hide >
Despite the emergence of computers, tablets, smartphones, e-readers and other electronic media, there will always be a place in society for good old-fashioned books printed on paper. While electronics have their merits, there are many situations where printing books is more suitable than electronic solutions.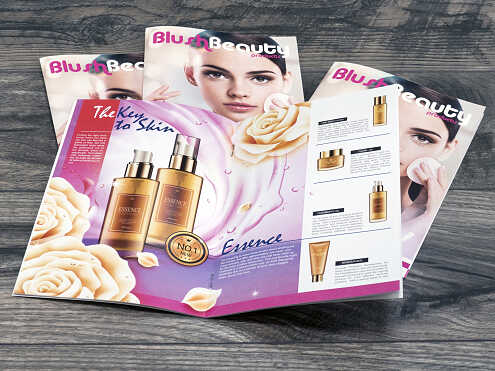 Monetization

Book sellers have more control over their product when there are no digital versions floating around. Book printing offers built-in control over digital piracy, since scanning each individual page damages the book and is expensive and labor intensive. Plus, reputable booklet printers will not let customers scan copyrighted content to print books without written permission.

No Setup Required

When you have your books printed, no one has to buy a device, register an account or commit to subscriptions to start reading. This is especially important with training books, technical manuals and other professional uses, because buying devices and onboarding your whole team can be costly and time consuming.

Many Readers Prefer Them

With screens on our phones, fridges, coffee makers and soda machines these days, it's no surprise many people get screen fatigue. Physical copies of printed booklets provide a welcome break from electronic overstimulation.

Digital Gets Forgotten

In a world where everything is literally at your fingertips (tap tap, click click), a lot of content is "easy come, easy go." But a professionally printed and bound book is less likely to be forgotten about than a PDF you downloaded two weeks ago. As for comprehension and retention, there is evidence to suggest that we learn better when we read from printed books than we do from screens.

Book Printing & Binding Grabs Attention

Imagine setting up a booth at a convention, telling visitors about your amazing products and then referring them to your online catalog with a business card. How many sales did you just lose? When you have printed catalogs ready to hand out, you've got a high-grade fishing lure. Your prospect is much less likely to throw away an entire printed booklet than a tiny piece of cardstock. And with the right combination of quality paper, compelling graphics and crisp photos, we know your book printing budget will be money well-spent.
QUICK REFERENCE FOR BOOK PRINTING: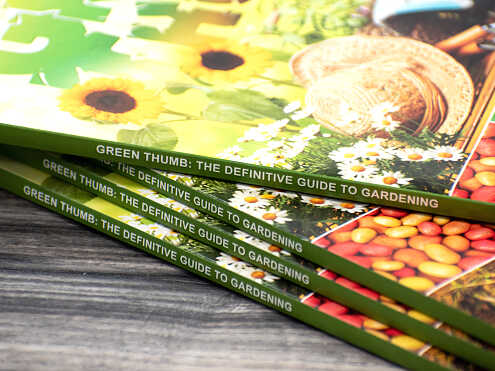 Spine Width Calculator
Enter paper type and page count to calculate your spine width and printable area for perfect bound book covers.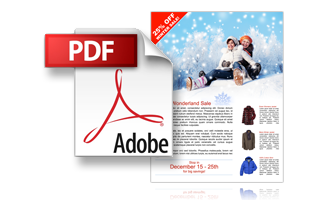 File Setup Guidelines
Learn about image resolution, margins, bleeds, color profiles and more.

Paper Catalog
Learn about the many paper options we offer for printing your books.