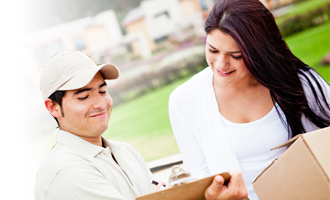 Delivery Times
Printing ships fast to all 50 states.
The map below shows the estimated shipping times in transit (not including production days) from our production centers in Wisconsin and California. Your job will ship from whichever center affords the quickest production and delivery time.
Orders over $125 (prior to sales tax, if applicable) qualify for Free Ground Shipping with standard turnaround time (no rush).
Enter your ZIP code below. Make sure to specify whether it's
Estimated delivery times and days in transit are NOT guaranteed.
If you MUST have your job delivered by a certain date IN OR BEFORE the estimated range shown at checkout, you must select the appropriate Rush Delivery option. For hard deadlines AFTER the estimated range, you must put this in the Job Notes.
All orders received after 2 PM CST (4 PM CST if shipping from West Production Facility) will go into production the next working day if there are no problems with your files or order.
If you have a specific date you need your job by after the estimated range, make sure to CLEARLY NOTE THIS in the Job Notes section of the order form or shopping cart. We cannot be held responsible for missed deadlines which are not brought to our attention.
Production Facilities